Testimonials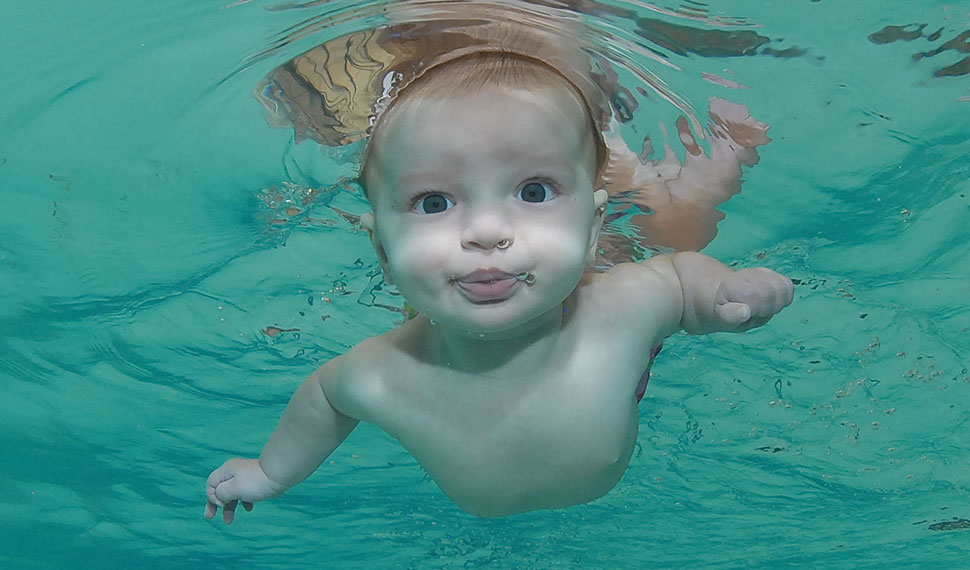 "Ready, go!" Time flies on but these two words are synonymous with five years of vivid memories from then Murray Callan Swim School on Law Street. The warm covered pool, the great instructors, the smiling children, the parents, smell of steam, and kids and the entire ambiance of the Murray Callan experience were instrumental in the development of my boys. Both my boys, now 11 and 13, began swimming at Murray Callan by age 1 and continued with this unique and rewarding program until school began. By 18 months, the boys were water safe and more importantly water comfortable. This was important as most of our lives are spent around water. It was great to see the kids stand on the edge of the pool, listening intently with a beaming smile on their faces. At the sound of, "Ready, go", they would stride and later dive into the pool and swim to the instructor or to the other side of the pool. Pictures of the boys swimming underwater with eyes open and cherub-like smiles on their faces still adorn our walls. By 2 years, the boys were bona fide "water rats" and at home in the ocean, any pool, or lake. By kindergarten, the boys were excellent swimmers, but more importantly, the time spent at Murray Callan had enabled them to concentrate, listen intently and respond to their teachers in school and coaches in other sports. Seven years later, the boys are still excellent and safe swimmers anywhere which is one less worry as a San Diegan parent. The life lessons learned from their early years at Murray Callan continue to pay dividends with the boys' excellence in school, sports and life. Murray Callan was invaluable in their life education. Jake and Jared thank-you.
Dr. and Mrs. Jim Roberts
As natives of Southern California and Long Island, my husband and I have been in or around a body of water all of our lives. The ocean and the lifestyle of living by the ocean are very important to us. Naturally when we found out we were having a baby we started planning for swimming lessons! We wanted to start our baby as soon as possible and we knew we could do that at Murray Callan Swim School. What we had hoped is that our child would eventually be a very proficient swimmer but we realized that we got a lot more out of swimming. Chloe learned to adapt to her instructors and peers who then helped her adapt to other environments. Because of her early instruction at Murray Callan Swim School we have never seen any type of stranger anxiety and we attribute it to being in a fun yet structured setting like Murray Callan Swim School. She sleeps like an angel after swimming, which is great for us! She has a healthy amount of stimulation from her classes. So that is the mommy and daddy side of the story; the Registered Nurse side of me knows that this is an invaluable skill to possess, especially living in our great city. Accidents and children go hand-in-hand but if we can give Chloe the gift of swimming we are giving her a life-saving tool for the future. Like we needed additional reasons to love Murray Callan Swim School, the facility is super clean, the water is nice and warm and the staff genuinely love the kids. We feel very lucky that Chloe has MCSS!
Vanessa, Craig, and Chloe Hochreiter
"My children have been consistent, year-round, 3 day/week attendants at Murray Callan Swim School since February 2004, and I couldn't be happier with their swimming and water skills. All 3 of my children started swimming at 3 months old and haven't stopped. The swim school has exceeded my initial expectation which was having the kids comfortable enough in the water so that playing in Grandma's pool would be fun and stress free. Now all 3 of my kids leap into the pool and ask to go swimming every day of the week. All are exceedingly comfortable in the water and getting their faces wet, playing, splashing, swimming, and "racing." My 4 year old easily pulls himself across the long length of the pool, which thrills his grandparents! My toddlers love the pool, too. They have been diving for toys and hopping off the edge and into the water since they were 6 months old. All of my children have bonded with their instructors. Each instructor possesses a wonderful combination of warmth, love, playfulness, and professionalism. All are well-trained, so that I know even if our instructor is sick, my child is in capable hands. The staff is helpful and accommodating within the rules and confines of the program. All of my requests to make-up lessons in advance have been met. My children love swim lessons, and Murray Callan is an integral part of our routine. Nothing is more fulfilling than hearing peals of laughter ripple across the pool as my son and his instructor are goofing around, diving, and swimming together."
Kerith Overstreet, M.D.
Mom of 3 happy Murray Callan swimmers (aged 2, 2, and 4)
"Murray Callan Swim Schools are phenomenal. As a parent, I took both of my sons to MCSS starting at the age of 4 months. They are now 8 and 11 years old and have mature swimming skills and water safety habits, as well as a LOVE for water and swimming and I owe that in large part to Murray Callan Swim School. I call my sons "Water Boys" because they could literally be in the pool or ocean 8 hours a day. As the VP of Fundraising at Kate Sessions Elementary School, I know Murray Callan Swim Schools are well aware of the struggles presented by budget cuts and periods of economic decline. Every year they generously donate to our school auction in an effort to help raise money to continue the Art, Music and Library Programs that State funding can no longer provide to our public schools. They are a valued Pacific Beach community member! "
Kathy Combs Parent and 2011-2012 VP of Fundraising, Kate Sessions Elementary Pacific Beach, California
"We started our son, Spencer, at the Callan Swim School when he was 8 months old. We were proud to join generations of San Diegans who know the importance of water safety and learning how to do it not only the right way – but the Callan way. It's knowledge that our son will never forget. And not only are the Callans and their instructors great people, but they have become personal friends, too!"
Jeff Prescott, longtime San Diego radio personality & parent
"With all the time that I spend around boats, I wanted my daughter to learn to love the water as much as I do. Plus, while I was off competing, Marly spent lots of time at my parents' house and we wanted her to learn to swim since they have a pool in their backyard. Murray Callan had been my swim instructor when I was young. So my mom started taking Marly to Murray Callan's when Marly was 7 months old and she became comfortable in the water right away. In fact, when Marly was about 18 months old, we were having a party outside at my parents' house on a cold, foggy day and Marly accidentally fell in. Thanks to her swim lessons, she calmly swam to the side, climbed out and told my Dad, "heat pool". At Murray Callan's, the instructors are so positive and enthusiastic — and the water is so nice and warm — your child will love to swim!"
JJ Isler
US Olympic Sailing Team
Bronze in '92, Silver in '00 Four-time U.S. Yachtswoman of the Year
"Thank you for your generous donation to our Spring Auction Gala. Your school is a fixture in the community, and it has served many of our students so well over the years. We appreciate your ongoing support."
Erin Fitzpatrick FOPBE Friends of Pacific Beach Elementary
"Murray Callan Swim School exceeded my every expectation! The instructors were dedicated, patient and caring. While my daughter was having the time of her life, she learned a life saving skill."
JEFF ZEVELY,
KFMB Channel 8 News
"Thank you, Murray Callan, for giving my son the gift of swim and giving Meg and me the comfort of knowing he's at ease in the water, because of your instruction. He's now a dolphin I can't catch in the pool."
MIKE COSTA,
XTRA Sports 1360
"Murray Callan Swim School gave our 3 children the best start in swimming and water safety at a young age. All 3 kids have gone on to participate in both competitive and recreational water sports in their teen and young adult lives, due to the positive impact of their early swimming education at Murray Callan Swim School."
MARK REYNOLDS,
Three time Olympic Medalist,
Yachting
"My son started at Murray Callan when he was 9 months old. We loved the system and the instructors. Learning to swim at an early age is essential in Southern California."
BEN HIGGINS, Sports Director, KGTV Channel 10
"My daughter completed her swimming instruction at your Pacific Beach facility and I have the following comments to make regarding our experience with the Murray Callan Swim School: We experienced a positive instructional environment. My daughter's instructor was very well versed on teaching youngsters how to feel comfortable in the water and quickly put her at ease. Her instruction quickly began to bear fruit and my daughter actually learned how to become pool safe and then learned how to swim. She now swims very well and is comfortable in pools, the ocean or San Diego Bay. I thank you for your role in taking my daughter from a non-swimmer who was afraid of water to a proficient swimmer with no fear of the water. My daughter's instructor was well trained and the water was warm and facilitated a positive learning environment. She had a maximum of 3 students in her group and the hours we selected for her instruction were flexible and reasonable. The pricing was fair and reasonable. In summary, I thank you Murray Callan Swim School for the service you provided my family and my daughter in particular."
ROGER TALAMANTEZ,
Retired CEO
"For me, Murray Callan Swim School meant peace of mind regarding water safety for my sons starting in early infancy. For my boys, MCSS meant access to a lifetime of healthy water sports, and the confidence to engage in and excel at a variety of other athletic activites. I cannot thank MCSS enough!"
DANA SHELBURNE,
Principal, La Jolla High School
"Carrie started swimming at Murray Callan Swim School when she was 3 months old and loved the water from day one. We feel it contributed to her balance, muscle development and overall confidence. Her love of the water lead to involvement in the Junior Lifeguard program which also exposed her to kayaking. Through kayaking she earned a berth in the 2004 Olympics. Our three daughters had a wonderful experience at Murray Callan Swim School. It provided the beginning of a love for water sports and we would highly recommend theirprogram to any parent."
SALLY and RON JOHNSON,
Parents of Olympic Kayaker,
CARRIE JOHNSON
"We enrolled our daughter in the Murray Callan Swim School when she was about six months old. We had a wonderful experience during her lessons and we were impressed by the friendly and very clean environment. She adapted quickly to the warm water and the caring patience of the instructors. She became water safe after very few lessons and was swimming well by the time she was a year old. Although we have always been extremely safety-oriented concerning our own pool, her ability to be 'water safe' provided an additional level of comfort. We can strongly recommend Murray Callan Swim School to any parent with young children, especially if they have a pool or visit homes with pools (although extremely close supervision is always required)."
Patti Turner
Searle Turner, M.D.
"Our family had a wonderful experience with Murray Callan Swim Schools. We started our two children at the Pacific Beach school when they were six weeks old. By eighteen months of age they could dive into the pool and swim to the other side.Our children are now in high school and they are very good swimmers. It has given us peace of mind to know that they are safe around water."
Jim Atkins, Attorney-at-Law
Sue Atkins
"My Son, Aiden Rule, and nephew, Dominick Buttry starting taking lessons at Murray Callan swim school two years ago. Aiden loved the water and any time he saw a pool or fountain he would run and jump in. He never cared that he always sank to the bottom of the pool and I had to jump in after him ruining my phone and pagers. As a pediatrician, I have seen the devastating consequences of near drowning victims. I was worried that my son could easily become one of the near drowning statistics since he had no fear of the water. The only way to prevent him from drowning was to get him into swimming lessons. I had driven past Murray Callan swim school so I called and enrolled him in swimming lessons.
Murray Callan swim school has a great program. All of their instructors are well trained and personable. Within 1-2 months, Aiden had learned enough to be pool safe. They taught him to fall into the pool and swim to the side. All the instructors are very patient. They work on getting the children over their fears of the water so that they are comfortable. Their program gets the children swimming within weeks. They also teach the children great technique of each stroke so that strokes look easy and natural. I would recommend every one of the instructors. The front office staff is friendly and helpful. They are always available and can answer your questions and concerns.
Enrolling in Murray Callan was one of the best decisions I made for Aiden and Dominick. I love the instructors, office staffand management. More important, Aiden and Dominick enjoy each and every swimming lesson and are eager to learn their new strokes. They never want to quit their lessons or change swimming schools. I recommend this swimming school to anyone who asks where my children take their lessons."
Dr. Wendy De La Pena, M.D.
"Our boys started at Murray Callan Swim School when they were 6 months old. They are now 5 and 7 and love swimming! They are learning proper technique and becoming great swimmers. Thanks so much, MCSS!"
Cynthia Bevacqua
Kurt Bevacqua, Former San Diego Padres first baseman & Star of the 1984 World Series
"Murray Callan Swim Schools are awesome. I loved the approach and technique. My children are great swimmers as a result and my son is surfing all the time. Great program!"
Steve Finley, Gold Glove Outfielder for the National League Pennant-Winning Padres and World Series Champion, Arizona Diamondbacks
"My daughter, Alexandra, was three months old when I enrolled her in Murray Callan Swim School three days a week. It was short durations, and soon she was swimming. It was amazing to see her hold her breath in the first lessons. Soon, I noticed the difference between Alexandra and other kids in her gymnastics, soccer, and ballet classes. She had a lot more breath and energy. At three and four years old, I could see the lung development working in her sports preparation. Murray's research on baby athleticism was paying off in many areas for Alexandra as she reached different growth periods. I was especially awestruck when at three years old she out-swam older boys and girls in a swim meet. In the end, it is the babies and young children – generation after generation – who really understand why Murray Callan Swim Schools are the world's best teaching facilities for young swimmers."
Samantha Stevenson, Former New York Times Sportswriter
"I am proud to be a Murray Callan Swim Schools' alumnus. Murray Callan's methodology and philosophy helped not only my lung development – but those early years gave me such self-esteem and discipline about my body. Their teaching was a natural journeyto the tennis court. I still remember 'Ready Go' – but mostly I remember how much Murray Callan Swim Schools cared that I succeed in life."
Alexandra Stevenson, Women's Tennis Association Pro, Wimbledon Semi-Finalist, ranked as high as 18th in the world